Greetings!
The 17th Annual Paine Field Aviation Day was a great success! A wonderful cadre of volunteers and our dedicated staff were a critical part of this achievement. Gorgeous weather and great planning produced a wonderful turn out and happy customers. About eight thousand visitors enjoyed a day of flying aircraft, the Fire Fighter Fun Run and Pancake Breakfast, delicious food, interesting displays, and lots of sunshine. The Young Eagle pilots flew 277 excited children. I want to thank all the volunteers from Washington Pilots Association, Historic Flight Foundation, Flying Heritage Collection, Experimental Aircraft Association, Museum of Flight, Civil Air Patrol, and the Snohomish County Staff for their time, skills, and resources.
Dave Waggoner
Paine Field Airport Director
Runway 16R-34L Closures
The Airport's Runway 16R-34L will have multiple closures beginning in June and running through September for shoulder repairs and electrical work. Pilots are encouraged to review NOTAMs for specific details about the closure dates and times. Additional information will also be available at the Paine Field Airport's website.
17th Annual Paine Field Aviation Day Photo Recap
Les Smith races in the Fly Day 5K.
Three aviation enthusiast watch the aircraft flying!
Presentation of the Colors at the Paine Field Aviation Day.
CargoLux's Boeing 747 takes flight during Paine Field Aviation Day.
A young girl learns the mechanics of flight!
A young boy is excited after his first flight
.
Historic Aviator takes a stroll.

Chief Jeff Bohnet prepares a grill during the Firefighter's Benefit Pancake Breakfast.
Air marshals enjoying the day.
Airport Operations Staff take a moment to pose for the camera.
(L to R: Kara Underwood, Marty Wray, Bryan Johnson, Bruce Goetz, and Julie Close)
Guided
Future of Flight Aviation Center Gallery Tours
Dates: June 12 - September 20, 2012, Tuesdays and Thursdays
Starting June 12, 2012, the Future of Flight will offer twice daily guided tours of the center's aviation gallery and its exhibits. Senior Projects and Acquisitions Manager at Future of Flight, Ed Kaplanian, will conduct the 90 minute detailed tours, which begin at 10am and 1pm on Tuesdays and Thursdays through September 20, 2012. Kaplanian also serves as the Center's Volunteer Coordinator, Commercial Aviation Archivist and is the author of a monthly aviation blog, Ed's Aviation Roundup.
Admission for the guided tour is included in the regular ticket price. Visitors should meet at the Visitor Information Center desk five minutes prior to tour times and are encouraged to see if they can stump Ed with aviation questions before, during and after the tour.
For more information, contact Ed Kaplanian at 425-438-8100 x 229.
The Piane Field Airport is sad to announce the departure of three of its dedicated employees. Ken McCauley, Airport Electrician, is taking the opportunity to retire. Christopher Fenner, Airport Accountant, is relocating to Norfolk, Virginia to be closer to family. Julie Close, Airport Operations Specialist, is embarking on a new endeavor after six years at Paine Field. Please join the Airport staff in wishing them good luck on their new adventures.
MAY 31 - JUNE 4 ♦
Runway 16R-34L Consecutive Day Closure (See NOTAMs)
Paine Field Airport
JUNE 1 ♦ 6:30 pm
Washington Pilots Association General Meeting
Sno-Isle Tech Skill Center
JUNE 6 ♦ 9:00 am - 4:00 pm
CPR & First Aid Training Class
Paine Field Fire Station
JUNE 9 ♦ 12:00 pm
Flying Heritage Collection
JUNE 10 - JUNE 14 ♦ 12:00 am - 10:00 am
CLOSED - Runway 16R-34L Night Time Closures (See NOTAMs)
Paine Field Airport
JUNE 14 ♦ 5:00 pm
Father's Day Sentimental Journey Contest Deadline
Flying Heritage Collection
Congratulations to Severe Family
Samantha and Kirstin Severe bonding.
Proud parents, Kirstin and Tyson Severe, are happy to announce the birth of their first child, Samantha Lee Severe. She was born on Friday, May 18, 2012 at 3:00 pm. She was 20 inches long and 6.5 pounds. Tyson Severe, Airport Firefighter, will bring her by and show her the ropes!
Airport Operations Welcomes Marty Wray
The Paine Field Operations Department has a new face. Marty Wray began work on April 13, 2012 as an Operations Specialist. His first day of work was a trial by fire as he attended a planning meeting for the Paine Field Aviation Day and was immediately assigned multiple tasks for the event.
Marty Wray, Operations Specialist
Born in Sault Ste. Marie, Michigan, Wray moved to Marysville in 1967 from New Hampshire and is nearly a lifelong resident of Western Washington. A graduate of Marysville - Pilchuck High and Utah Valley University, he has been married for 30 years to his wife Sandy. They have two children and two grandchildren.
Wray most recently was the maintenance supervisor for Pangborn Memorial Airport in Wenatchee where he participated in aircraft rescue and firefighting (ARFF), maintenance, airport operations, wildlife control and snow removal for the airport. Prior to Pangborn Airport Wray was an operations specialist for San Mateo Co. Airports in San Francisco. At San Mateo, he participated in operations, maintenance, and airshow planning for both San Carlos and Half Moon Bay Airports.
Before entering airport operations and maintenance, Wray worked for five years at Paine Field's Castle & Cooke Aviation.
Wray is also a multi-engine commercially rated pilot with over 1200 hours. In his spare time he repairs and builds custom guitars and performs with an acoustic trio.
If you see Marty Wray, please help the airport in welcoming him to the team.
Airport Rental Space Available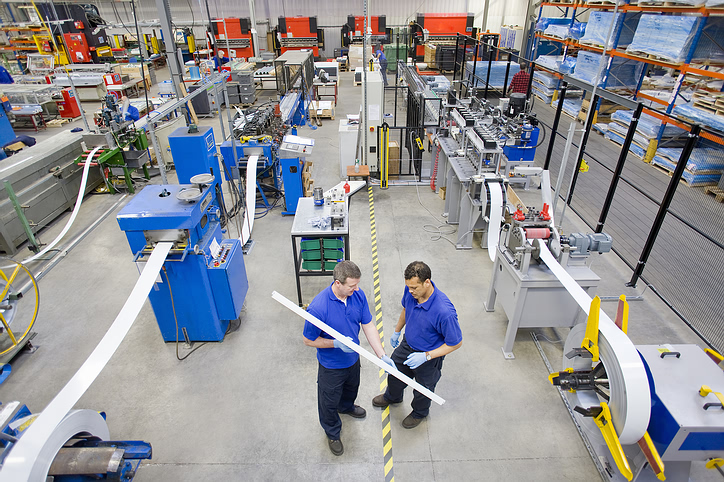 5,144 sq. ft. of mixed office/manufacturing/warehouse space: Suite S of the IAC Building
3,742 sq. ft. of office space (mountain views) with ability to subdivide: Second Floor of the C-3 Building
Additional details on the Airport's website or contact Susan Kern at 425-388-5103
Wildlife Management: European Starlings
First brought to North America by Shakespeare enthusiasts in the nineteenth century, European starlings are now among the continent's most numerous songbirds. Today, more than 200 million of these small, stocky birds range from Alaska to Mexico.
Starlings gather in flocks on grass fields to feed on insects and other invertebrates. Flock size may vary from a few dozen to several thousand depending on the time of year and availability of food. Due to their flocking tendency, dense body, and triangular shape, European starlings are often described as "feathered bullets" in the aviation industry. In fact, starlings have been known to penetrate the fuselage of today's most typical commercial aircraft travelling at normal departure speeds.
Aircraft suffering multiple strikes and ingestion of European starlings
Although European starlings appear to be small and fairly harmless, pilots at Paine Field should contact tower when large flocks are observed and should never attempt to take off or "fly through" these potentially hazardous birds.
Dropping in on Ellsworth
Airmen at Ellsworth Air Force Base line up for a photo shoot with Grumpy.
In planning the return trip from the 70th Reunion of the Doolittle Raiders, the Historic Flight Foundation (HFF) B-25 flight crew realized that a stop at Ellsworth AFB would be historically significant because Jimmy Doolittle "recruited" his volunteers from four squadrons, three of which are based at Ellsworth; the 34th, 37th and 432nd. These units today fly B-1 bombers, generally supporting troops in Afghanistan on rotating 6-month deployments. Visiting Ellsworth required special Pentagon approval. The chain of command came through and a "call out" was arranged for the landing on April 20, 2012. "Grumpy" flew an extended arrival sequence ending in the downwind, opposing a landing B-1. The ground crews juxtaposed "Grumpy" at a right angle to a display B-1. The crew and passengers gave and received tours, answered questions, and thanked the Air Force personnel for their service. Patches were exchanged. Grumpy's crew shared B-25 t-shirts and several bottles of "Grumpy Red." Departing the next morning, Grumpy added to the memorabilia of the B-1 briefing room by leaving an exhaust stack on the runway. The FOD Patrol did its job by recovering the left-behind hardware before a B-1 could ingest it. It is now a souvenir collar for an autographed and dated bottle of "Grumpy Red."
Please send

me an

email

with any upcoming events and future article ideas for Paine Field Happenings
.